CLOSETBOX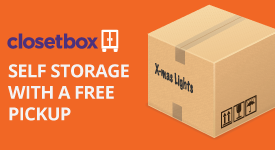 $50 in Free Moving Boxes
Store your items with Closetbox and receive credit towards free moving boxes College Moves Dorm Room Moving Kit

*May not be combined with other coupons or discounts.
You are leaving Uboxes.com and entering a site hosted and operated by an affiliate of Uboxes. Different terms and conditions apply.
Self Storage Near Me
There are approximately 58,000 storage facilities in the US with the heaviest concentration in Texas, Florida, and California. It is no surprise these are big moving states as well. There are large corporate owned storage facilities and mom and pop storage centers where various websites help them compete against the large familiar known brands. Today's storage websites not only locate all the storage facilities in your zip code or city but can also compare costs so you can decide on the best unit for your needs. Perhaps you need air conditioning, exterior door, or car, boat or document storage. All this can be found online with a click of a button instead of driving to each facility to locate what you are looking for. Also, you can search any time of the day or night to fit your schedule instead of your day off when you would rather relax and watch a football game.
Book Your Storage Unit Online
With today's online comparison tools you can navigate to your zip code and compare unit storage sizes and then choose the providers in your area to compare costs. You can book your storage unit online without the hassle of ever leaving your home. Some websites even show you what can fit in a storage unit and offer different sizes ranging from a 5' x 5' storage unit to a 10' by 30' storage unit. Some companies offer a moving truck or a crew to come pick up your storage items and deliver it back to you upon your request. Living in large cities many residents do not own a car let alone have to go pick up a rental truck to deliver their goods to storage at approximately the same price as self-storage. Having a company that is a one-stop shop for storage is a convenience for today's busy lifestyle. Once your items are stored you have the lock and key and in most cases can pay your monthly bills online.
Signing a Self-Storage Agreement
Remember with all contracts read before you sign on the dotted line. Most storage contracts are for month-to-month and outline all the details such as hours of operation, payments, and responsibilities. If you are in the military or a senior, many storage facilities will offer you a discount. Many storage facilities will let you change units if you need to scale up or down without a penalty. Be sure to check out insurance either from your household policy or if one is needed for your unit at the storage facility.