Professional Local & Long Distance Movers INC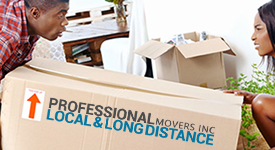 Get $50 in Moving Supplies!
Moving can be an overwhelming process. There hundreds of local moving companies in New Jersey to choose from. But how do you know, which one is going to get the job done right? Professional Local & Long Distance Movers INC is here to make sure that you will safely relocate your business or home possessions to your new space with ease and efficiency, regardless whether it is an office furniture, your comic book collection or grandma's antique lamp. Although that is true about most movers you will find, what makes our moving company the right fit for you is our excellent customer service. No one knows New Jersey like we do. Our moving teams are always prompt and courteous. Our goal is to make your move stress-free and accommodate all of your needs. Each one of our movers undergoes training to provide you with the best quality of service. We want to know what concerns you have about moving and make you feel at ease. We know that life waits for no one, and will make sure that you up and running again as quickly as possible. We offer a great variety of moving services! From residential to commercial, including office relocation. Packing service is one of our most popular service for people who don't have time to pack. We do it professionally and with the utmost care!
Moving in Jersey City, NJ