CLOSETBOX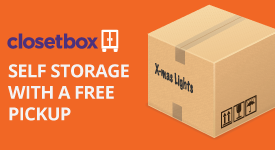 $50 in Free Moving Boxes
Store your items with Closetbox and receive credit towards free moving boxes College Moves Dorm Room Moving Kit

*May not be combined with other coupons or discounts.
You are leaving Uboxes.com and entering a site hosted and operated by an affiliate of Uboxes. Different terms and conditions apply.
Moving Into the Dorm
Graduation is over and it is time to pack up and head to your dorm room.  Ask your college rep for a list of items your college approves for your dorm room.  This list will also provide what the dorm includes such as bed size, desk, or other furnishings.  Once you have bought your items on the list you can have the larger items shipped directly to the dorm and only pack your clothes or other necessities for the trip to your new campus.  If you are driving there just order one of our dorm room moving kits ahead of time and pack up the car.  If you are flying consider shipping your goods UPS or Greyhound to get your boxes there in time for move-in day.
College Moving Boxes
Looking for college moving boxes and an affordable solution to moving in and out of the dorm?  Each year college students must move into the dorm room and during summer break move out of their dorm rooms for cleanup and sanitizing the living spaces.  Students can also move out of the country to travel for international studies for a semester. Moving preparation can be stressful with final exams and planning for spring break and everything college life brings.  We make college moving simple with our college moving boxes kit solutions.  Order small, medium or large size dorm room moving boxes including packing materials to get your items packed up.  Getting the boxes ahead of time will provide you ample time to pack before your goods are picked up to place in storage.  When you purchase a college moving box kit write down the dimensions of the boxes and the number of boxes to provide the local storage company to obtain a quote.  Many college moving storage services are door-to-door and hassle-free regardless if you are in a dorm room, fraternity, sorority, or apartment.    College students are normally on a budget so be sure to get storage estimates and ask for rebates on your moving boxes.  When you return to the University in the fall or after your international studies semester make arrangements to have your items returned to your dorm room. 
Keep Important Documents
Remember if you have important documents such as passports, picture ID's, school records, and medical records you should scan them and send the original documents home where they will be safe until your return to campus.  Anything that is of personal value should either have insurance or shipped to a safe place until you return to the campus.