Container & Storage Moving Kits by UBMOVE
Container Moving became popular due to the convenience of homeowners loading their goods at their leisure. The company will drop off an empty container at your house so you can pack your belonging in the container. While the process seems easy enough the correct packing and securing of the items are most important to avoid costly damages. The challenge consists of the following:
How do you pack different types of items in a container including the fragile ones?
What kind and how many packing supplies do I need?
How to load and secure the items in the container like a professional mover


Over or Under Buying Packing Supplies Is Costly
While not having enough container supplies would hinder the packing and even the moving process. The moving supplies experts at UBMOVE have carefully designed packing supplies kits specifically designed to accommodate the packing of containers in different sizes. Buying moving kits for containers will eliminate the guessing game. There is an easy and economical way to pack containers. The container kits could also be used for storage units of different sizes.
Why You Should Choose A Container Moving Kit By UBMOVE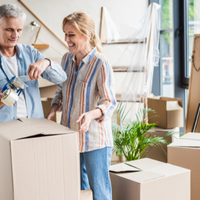 Container and storage packing kits by UBMOVE are skillfully packaged with a selection of moving boxes, packing tapes, bubble rolls, textile moving blankets, and other supplies. Besides having sufficient packing supplies, proper packing is instrumental in reducing the risk of damage during transit and storage. UBMOVE kits are built to pack and protect container moves:
All fragile items should be secured with bubble roll or packing paper. Moving blankets may be used for larger items.
Use cheap textile moving blankets to protect furniture, appliances, mirrors, and artwork. Textile blankets are an economical must-have packing supply for DIY or professional movers due to the cost of protecting goods. The use of moving blankets has been instrumental in lowering damages resulting in a reduction in insurance claims.
To secure moving blankets in their place, use ropes, packing tape, or stretch wrap. While all three will keep the moving blankets secure, the stretch wrap or taping method would work better when applied over the moving blankets. Although ordinary cloth furniture could be tightly covered with stretch wrap the use of moving blankets to wrap leather furniture is highly recommended.
Mattress covers are one of the most overlooked packing supplies by homeowners. They don't cost much for the amount of protection they offer. Mattresses are expensive and the cost of replacing a soiled mattress will justify the nominal cost of mattress boxes and plastic covers.
Most containers are equipped with interior rails to secure furniture and appliances to the rails. Securing goods will avoid any shifts during transit. Ratchet straps or ropes work well with a container-style move.
The storage and container packing kits can be customized to suit your needs. Assess what other packing supplies you may need that complete your container moving order in one easy UBMOVE kit!