Morgan Shipping Lines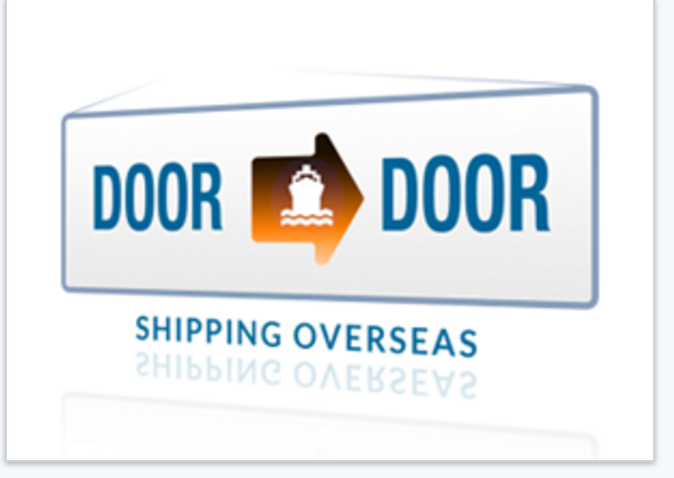 200-300CF & 300-400CF & 400-500CF - Boxes
20FT CONTAINER: $320.00 - Boxes
40FT CONTAINER:  $461 - Boxes
*May not be combined with other coupons or discounts.

You are leaving Uboxes.com and entering a site hosted and operated by an affiliate of Uboxes. Different terms and conditions apply.
I Love International Moving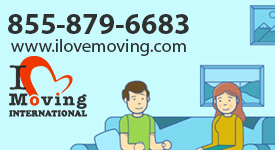 Save $200 in Moving Boxes for your International Move!
For few decades I Love International Moving has been providing first class international moving and storage services to the people of Uthe USand other countries.  Equipped with excellent facilities and a dedicated team of moving experts, I Love International Moving has been providing relief to families, businesses, and professionals seeking to move across the globe.  Whether you are moving because of family or work reasons, I Love International Moving will get you there peacefully without any hassle.  With the capacity to handle shipments of any size, I Love Moving is your ultimate moving partner for a calm and stress-free transition to your new residence.  At a reasonable fee, we will pack your belongings, deliver them to your new residence and unpack them once we arrive there.  This allows you the peace of mind to deal with other pressing issues such as work and/or family commitments.  Our years of experience in the moving industry has taught us that people and businesses have different needs when it comes to moving and relocation. This is why we provide free in-home estimates, and all you have to do is to make a call to schedule one.  We also handle car transportation, and we will gladly assist you with this task.  Professionalism and customer service are the driving pillars of our business.  Our moving experts are available 24/7 to deal with your concerns regarding moving and are ready to answer any questions you might have.Moving is not easy, but when you move with I Love International Moving, the experience becomes a lot less challenging.  I Love International Moving helps you to get your life back on track as quickly as possible.  Trust our experts to move your belongings safely and conveniently.  Trust I Love International Moving to get you there. 
Sunset International Shipping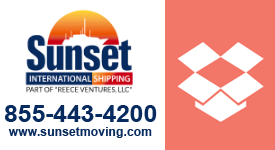 Save $100 in Moving Boxes for your International Move!
Sunset International Shipping is a leader in international moving services!  We guarantee that we will get the job done for you efficiently & professionally.  Sunset International Shipping is here to make the packing aspect of your travel and moving plans as painless and simple as can be!  There's no need to worry about personal belongings getting lost in the move or fear that something valuable may break because Sunset International prides itself on getting their customers belongings to their destination safely.  Our customers can be assured that everything will arrive in the exact condition that they were in when they were picked up to be moved. 
From moving by air and freight shipping to custom crates and free boxes, our company can provide you with the services you need no matter what the scope of your travel may be. We've specialized in international moves for over 15 years, so we promise that we can do it all!  When you hire Sunset International for your moving needs, you are guaranteed to get the most for your money.  We never hit you with any hidden costs or fees. What you see is what you get!  Sunset International Shipping has partnered with UBoxes to help streamline the moving process.  This only benefits the customer, because you get all of the boxes delivered to you by mail right to your door! Then you have the choice of packing the boxes yourself or having one of our many experts from Sunset International take care of it for you.  Moving can be tricky and time-consuming.  Let Sunset International Shipping help make it quick & simple!  Make moving as easy as 1, 2, 3 and give us a call at 855-443-4200 to get your free quote today!
My International Movers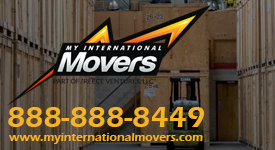 Save $100 in Moving Boxes for your International Move!
My International Movers has been in the business of helping people relocate internationally for years. We have a track record of thousands of successful international moves. We are fully insured and licensed.
First and foremost, we're in the service business, and satisfaction of our customers is our number 1 priority. We strive to make every move easy, simple, and stress-free. We've specialized in international cargo shipping for over 15 years, helping both residential and commercial customers relocate across the globe. Whether you need to relocate your house, an office, a vehicle, a boat or just boxes with your household items, we can help. We provide full-service door to door moving by sea or by air, as well as packing and unpacking services, special crating for valuables and antiques, storage, customs clearance, consolidated shipping, full containers and more.
Each move is unique, just like each person. You'll get one representative to deal with throughout the process, who you can approach with any questions and concerns, start to finish.
Reasons to choose My International Movers:
•        We only use most efficient packing materials
•        Picture and art are individually packed or crated
•        Boxes are packed sufficiently full to avoid crushing
•        Boxes are taped top to bottom, across all seams and sides
•        Rugs and carpets are rolled up and fully wrapped
•        Each box is barcoded and labeled according to the pre-printed full inventory list
•        All furniture is disassembled, if appropriate, and assembled back
•        All hardware is packed together in the master hardware box
We provide regular updates regarding your pickup and delivery times so you don't have to stress! Call us today at 888-888-8449 to see what My International Movers can do for you!
International Moving
International moving can be an exciting time for singles, families, business professionals, and college students studying abroad.  You may be moving a whole household or just enough familiar supplies to keep you from getting homesick.  Either way, a professional international mover can guide you through the necessary procedures to get your goods to port, through customs and arrive at your destination safely.  Moving abroad takes planning ahead of time due to the complexities of coordinating your move between countries.  It is best to work with an international expert who would be assigned to your move so that you can communicate directly on your moving abroad plan step by step to ensure your move goes smoothly and any questions you have along the way will be answered from the agent handling your move. 
Proper Packing Supplies for Your Move Abroad
When moving internationally it is important to prepare your goods with the proper packing supplies for your move abroad.  Not only will your items have to be transported to port but then has to be loaded in a freight forwarder and after customs clearance transported to your destination.  This is a long journey with many moves so packing properly is important.  Be sure to use the same size boxes for easy stacking and less wasted space.  Uboxes moving kits come with a range of same size boxes and all the proper packing supplies such as bubble rolls, packing paper, and tape.  Also, remember to use moving blankets for large objects such as furniture and bicycles to keep them from banging up against other items causing damages. 
International Relocation
Many international relocations are due to a new job, marriage, or seniors moving to more affordable destinations in their retirement years.  Whichever is the case for you, you may want to shop around for quotes and obtain reviews to compare the companies before deciding on the best solution for your international move.  When relocation you may want to decide if the furniture is worth shipping or would you be better off buying new furniture once you arrive at your new destination.   Some things may not be available in your new country or may require different electricity requirements.  Do your due diligence prior to making your decisions on what to pack and what to leave behind.  Perhaps your family has room in a basement or you want to rent a storage unit until you return.