North American Vanlines
Divine Moving and Stoarge



500 Miles or More Get Free Boxes

2,500 lbs - $50 off 




2,500 -5,000 lbs - $75 off 




5,000 – 10,000 lbs - $100 off 




10,000+ - $125 off




Moving in NYC & long distance originating from NYC use Divine and receive Rebate towards free moving boxes

*May not be combined with other coupons or discounts.
Trico Long Distance Movers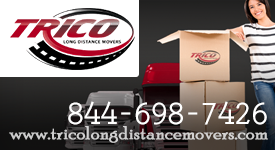 Save $100 in Moving Boxes for your Long Distance Move!
Trico is a professional long distance moving company in the United States. We are the most reliable and affordable home and business movers. We are certified and licensed, with decades of experience. Customer satisfaction is very important to us, and we strive to provide great customer service at affordable rates. At Trico Long Distance Moving Company, we believe that relocation should be fast and comfortable. Happy customers are our top. We have built and maintained the reputation as one of the most reliable distance moving companies in the US.
FAIR PRICING: Trico Long Distance Moving Company offers reasonable rates for long distance moving. No hidden charges involved, contrary to "very low" prices provided by other moving companies but with a load of hidden costs. We're very straightforward, and we provide our clients with the best services within reasonable budget. We offer a free consultation so that our customers are aware of the exact cost for their moving needs.
EFFICIENCY: At Trico Long Distance Movers, we strive for professional moving, packing, and storage services, and a timely delivery. We ensure that our clients enjoy the safest and most efficient moving solution in the country. We use a fleet of modern trucks, and only employ certified and experienced moving professionals. We take the safety of our customers' possessions very seriously.
EXPERTS: We have a team of highly qualified professionals with years of experience in the moving industry. Trico Long Distance Movers is synonymous with professionalism. It is expected that each and every one of our employees maintain our superior customer service ethics. We believe you should be able to rely on Trico Long Distance Movers to treat your belongings with the same level of respect and care as they would treat their own. In our opinion, there is nothing more important than offering customers peace of mind! Give Trico Long Distance Movers a call for a free quote today!
Cross Country Long Distance Company

Save $100 in Moving Boxes for your Long Distance Move!
Cross Country Long Distance Moving Company takes the stress out of moving. We are the best option for your moving needs and offer the most experienced, dedicated and trusted long distance moving services. We assist in residential, commercial and office moving, storage, packing /unpacking and auto transport/ auto shipping! No matter where you're living or where you're going, we have the professionals and experience to meet your moving needs. Whether you're moving into a new home miles away, across the state to a new office space or just getting a storage while settling into a new home; we have a team of dedicated and experienced professionals to make your move stress free. We provide FREE in-home estimates and affordable prices for every out of state move. We take pride in our services and treat your belongings as our own. Every item you leave in our trust will come back in the same condition as you left it. Our experienced professionals protect all of your belongings because each one is valuable to us. We take care of your precious family or collectible vehicles too!We've simplified the moving process even more, and our guaranteed prices include the wrapping of all furniture items, packing of all electronics, lamps, pictures, mirrors, free wardrobe boxes and more. Although some clients still pack themselves, we want to help you protect your valuable items, leaving them in the hands of a professional to pack and look after. Cross Country Long Distance Movers will take care of any and all of your specialized items. We pack even the most fragile pieces and crate antiques and works of art.Cross Country Long Distance Movers wants you to focus on yourself and not the moving process. Let your day be uninterrupted with the moving process, and know we will have your moving needs not only met but exceeded. Don't let moving be the stressful, tedious and exhausting aspect of your day. Let us tackle that aspect.
Give Cross Country movers a call today at 877-888-0708.
Flat Price Moving and Auto Shipping

Save $100 in Moving Boxes for your Long Distance Move!

The Flat Price Moving and Auto Shipping company is the most reliable way of transporting your belongings and automobiles from one state to another. All you just need to do is simply make a phone call, and our service agents will be there in no time to provide you with a free estimate. You can also obtain your free quote over the phone. Whether you need us pack only fragile items, or completely wrap all furniture and box your belongings for you, it would be done in the most reliable and efficient way possible. Either it is packing and unpacking, crating and storage, nationwide door to door auto transport, enclosed auto transport, oversize hauling, classic cars shipping, motorcycle transport, or auction car transport, we treat all our clients with equal care and compassion; and you can be assured of the safety of fragile items and antiques. Unlike many moving companies on the market, we provide you with a flat rate price. We offer you great value and peace of mind. We do not bring up surprise charges once the move has begun, and try to make your relocation as stress-free as possible.Our performance over the years speaks greatly of us, leaving you without a shadow of doubt of our excellent services. Contact us today, let your shipment be moved the flat price way.
Long Distance Movers

Save $50 in Moving Boxes for your Long Distance Move!
Long Distance Movers is the number one option for the professional cross country moving, vehicle transportation, and storage services that go smoothly and efficiently for a price that can't be beaten.  We at Long Distance Movers have been consistently proven to be one of the most reputable and reliable long distance movers in the country. Everything we do is geared toward giving you a professional and personal moving service – we always have your back!  We are dedicated to providing quality on a national scale to tackle all of your moving needs with the most convenient and efficient service around. Providing the most convenient and professional move of your life.  Long Distance Movers is trusted around the country to help make relocating a breeze.  The performance, commitment, and passion we're known for mean that you'll get a reliable service you can trust. (Don't just take our word for it – read our client testimonials!)We're dedicated to meeting your moving expectations with experience and making your move as painless as possible at a price you can afford. Our moving quote generator on our website will prove to you that our all-inclusive prices are the lowest around – guaranteed! Call today and speak with one of our highly trained representatives - 877-299-3827!  The main part of our mission is to guide you through the process and keep you in the loop about your move. We've got years of experience under our belt protecting your valuables and making sure they're moved from point A to point B in the exact same condition.
East Coast West Coast Express

Save $100 in Moving Boxes for your Long Distance Move!
East Coast West Coast Express offers US customers professional long-distance moving services that are reliable and affordable. It's our goal to make your move easy with help of our highly trained personnel. Why should you choose us?We only hire the best movers and packers. We also carefully select and train our drivers and packing staff to ensure that our customer gets only the best service.  Our customers trust us to safely transport their most valuable possessions because of our reputation for unbeatable service and outstanding professionalism. Hundreds of extremely satisfied customers have discovered how easy moving can be when you have East Coast/West Coast Express on your side.  We have remained the most trusted name in long distance moving industry.Services: We provide all types of Long Distance Moves.  Our long distance moving services include packing of all furniture items, hanging clothes into wardrobe boxes, packing electronics, lamps, pictures, and mirrors. East Coast West Coast Express can move your home or business.We also offer storage and auto shipping services.  Our goal is to provide you with the safest auto transportation available.  Our fleet of top of the line moving trucks undergoes regular maintenance to guarantee the safe transportation and delivery of your vehicle.  When it comes to automotive moves, we treat our customer's vehicles with the same respect and care as we would our own.  Besides that, every moving customer has access to free 30-day storage.  If you need to store your belongings for an extended period of time, please call one of our moving experts for more information. 
State 2 State Moving and Auto Shipping

Save $200 in Moving Boxes for your Long Distance Move!
State to State Moving and Auto Shipping is an established professional moving company that also provides auto shipping services to residents of all continental US states. We work with everyone from young professionals, businesses, individuals, and families in need of packing, unpacking, long-term or short-term storage. With State to State, switching states are just as simple and stress-free as moving three blocks away.Moving heavy furniture and precious family heirlooms across the states sound nightmarish to those without the years of experience that State to State has accumulated over the past twenty years. Let us handle the most important things in your life – or simply the things you need moved and stored as quickly as possible without ever having to move a muscle or lift a finger yourself. Our full-service handles moving, heavy lifting, safe storage, and reliable car transportation, leaving you free to worry about all of the life's other challenges.  Worried about fine china? Century-old artwork? Plasma-screen TVs, vintage guitars, and full-sized drum sets? Our movers are experts at special services, dismounting complex equipment and wrapping your most fragile prized possessions so they reach their final destination scratch-free and fully intact. At State to State Moving and Auto Shipping, we believe no one aside from our professional movers should tackle endless staircases, walk-ups, building restrictions and grand pianos.Our flat-rate, all-inclusive prices are always transparent. Never expect surprise fees or additional charges! Our professionals have years and years of experience lifting, storing, packing and protecting. We treat every item as if it's our own, and with full item inventories, you can track every item's whereabouts and stay up-to-day and worry-free throughout your moving process. For more information on our award-winning customer service, check out our client testimonials, and call our relocation specialists available 24/7 to answer questions, concerns or anything moving-related. 
Long Distance Moving Experts

Save $200 in Moving Boxes for your Long Distance Move!
Long Distance Moving Experts specializes in moving your entire property cross country while storing it in quality moving boxes and packaging everything with care. We also transport vehicles cross country, whether you have collectible unique cars, or family size vans and SUVs.Moreover, if you want to keep away your belongings for storage, we have the solution. We offer free 30 days storage at your origin state. Long Distance Moving Experts personnel also works around the clock to ensure customer satisfaction by answering questions that you might have and helping you schedule one of our services. Our moving professionals are friendly, and you will enjoy communicating with them.Partners providing boxes: You can decide to either get the boxes for yourself to package your possession or choose to let Long Distance Moving Experts handle all the moving and storage solutions that you would need. Our boxes are designed especially for storage and packaging of different size items. Your belongings will be safe from damage.Long Distance Moving Experts takes your worry off a small portion of your daily routine and allows you to focus on the bigger fish that you have to fry. Not only does Long Distance Moving Experts provide incredible services, but it also allows customers a chance to pick the right kind of service that they need with the different cost packages that they offer. Find moving an easy task with Long Distance Moving Experts.
Long Distance Moves in the US
Interstate Moving Full Service Moves or Hybrid Moving Services
Long distance moving companies, interstate movers, and state cross-border companies help their customers move across state lines.  When moving interstate you can hire a company to complete the move start to finish or combine a hybrid service with packers and unloaders and rent a container or rental truck to fit your family moving budget when moving cross country.  Container companies can also be used for temporary storage in case your residence is not ready to move in yet.  Interstate Movers can also temporarily store your goods while until your new home is ready.  If you have a motorcycle or auto that requires moving you may request a flatbed or a lift gate truck.  Sometimes there are a few days lapse in between selling a home and purchasing a new one and the moving industry is prepared for your interstate moving needs.  Create your own interstate moving package that includes full service or a hybrid of services.  Be sure to look at moving insurance plans and coordinate with your insurance agent.
Ensuring Your Interstate Mover is Licensed Properly
At the very minimum, long distance moving companies are required to carry Cargo and BIPD insurance policies.  Moving companies are required to offer an arbitration program and go over information regarding a dispute settlement program.  This is a means to resolve disputes in case you have broken goods or damages during transport.  The movers have experience in planning, packing, customs regulations, and carry insurance.  If you have valuable items you may want to inventory your goods, check with your insurance agent your coverage for moving and if you need additional insurance.  Be sure to check if your moving company is registered with FMCSA – Federal Motor Carrier Safety Administration to transport your goods across state lines and that their licenses and insurances are current since they have to register every couple of years.   Many moving companies register with the American Moving & Storage Association (AMSA) to assure they adhere to ethical standards within this organization.  The movers are subjected to a number of special higher standards to keep current with state and federal laws.  These laws are to keep your items safe and legally transport your goods.  The United States Department of Transportation (USDOT) also assign interstate moving companies a unique identifier.  This unique identifier tracks important information such as an investigation of crashes, inspections, audits, review of compliance and safety standards. 
Packing Tips For Long Distance Move
When moving long distance we suggest you buy a moving kit and add specialty boxes as needed. For example, you may have china and crystal stemware requiring kitchen boxes and foam pouches.  Flat screen TV along with expensive mattresses where you want extra protection such as a mattress box with plastic mattress covers.  If you are not sure where to start then we suggest to look at how many rooms you have in your house and check out moving kits organized by the number of rooms.  Next take an inventory of specialty items that need to boxes such as lamps, beds, and fragile items.  If you want to color coordinate the rooms for each box to be into then you may use our label tape and room labels.  We also carry storage and fragile labels.  Consider marking one of the boxes first open that contains special items such as children documents, medications or a list of required services.  Also, you could have a parts box that holds all the nuts, bolts and screws to reassemble your furniture.  Be sure to check out our videos for packing ideas and tips for your long distance move.