Legit Movers Chicago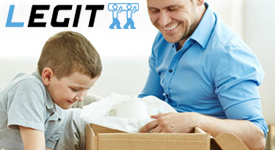 Save $50 in Moving Boxes for your Local Move!
Welcome to Legit Movers Chicago! An experienced and professional moving company that is ready to help you with all your moving needs!
We provide the most types of moving services, including local residential, local commercial and office relocation!
Founded in 2008, Legit Movers Chicago has had over 100,000 moves, high rating, and absolutely satisfied customers.
We take care of your valuable belongings like no one else does - with care and safety. We have great and clean trucks. all the necessary tools to take care of your furniture with moving blankets, tape, etc.
Choose Legit Movers Chicago for a safe and successful move! Our team member will gladly assist you with an absolutely free quote and will help you book your preferable moving date!
Moving in Chicago, IL