Smooth Move Movers Pro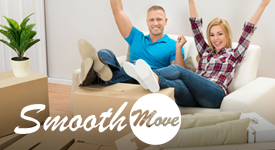 Save $50 in Moving Boxes for your Local Move!
No one can overstate the complexity of moving. Thorough planning takes a lot of your precious time and still, a lot of unexpected problems are waiting for you out there. However, if you value your time and look for a move free of problems in the Nashville area just call Smooth Move Movers and we will take the stress out of your move.We are a skilled team of problem solvers who know how frustrating moving can be. Our years of experience, attention to detail and commitment to your satisfaction will make your relocation experience a smooth move. Planning, packing, lifting and loading all represent their own challenges and issues for individuals trying their hand at moving solo. What if you could get rid of those challenges and simply smooth out the moving process? With Smooth Move Movers, you can! Our years of experience gave us an opportunity to provide solutions to all kinds of moving problems so that our processes were as effective as possible. We use our years of experience to create solutions to each and every moving problem so that our processes are as effective as possible. Our well trained professional moving teams always do their best to deliver your belongings safely. We choose only the best packing materials in order to ensure the security of your belongings. No flimsy cardboard or weak tape!

Moving in Nashville, TN